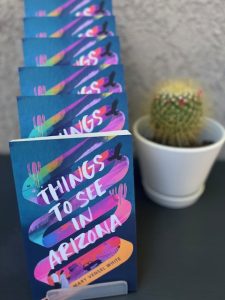 It's finally here! Our first book is out in the wide, wide world, and we couldn't be more excited. Here's what some readers have said about Things to See in Arizona:
"I love how this book encompassed traveling, friendship, family, romance, and growing up all at once. I would definitely recommend this novel to most young adults out there! Looking forward to reading more of this author's novels." ~ flowergirl.reads
"A short but sweet road trip story that explores the relationships between family, friends, and our relationship with ourselves. It seamlessly blends serious themes with a light-hearted perspective and helps to show how we can endure and overcome our personal histories, better understand our ancestral ones, and accept the unknown future ahead." ~ Laura's Books and Blogs
"Tuesday embarks on a road trip that ends up opening her mind to many aspects of her life, personally as a girl with physical limitations, seeing myself reflected in a character was captivating. The author knows how to express very well the fears and indecision that as young people or adults we usually face throughout our lives." ~ time4bookswithv
We'd love to hear what you think, too! If you enjoy Tuesday and Cristian's journey through the magical and unique places in Arizona, head over to Amazon, Goodreads, BookBub, Reedsy Discovery, or LibraryThing to share your rating and review. Or tell your friends about the book at Instagram, Facebook, Pinterest, TikTok, or Twitter (okay, X).
Now that Type Eighteen Books is off the ground, we're going to hit that ground running. Stay tuned for an announcement next week about our next book, a historical fiction novel. We should have that cover for you in September, along with the announcement of another author. Stay with us! We're just getting started. And if you haven't picked up your copy of Things To See in Arizona yet, what are you waiting for?